"I'm sharing my story because I hope my experience will inspire others with axial SpA"
Beibei Fan is has lived with axial SpA symptoms since the age of 26. This year, she is taking part in the Spine Race endurance challenge to raise awareness and funds to support others living with the condition. Here, Beibei shares her story.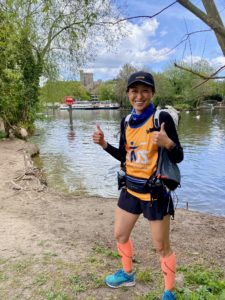 I first started to have lower back and hip pain when I was 26 and could not figure out what it was. The pain came and went for no apparent reasons, and when it was bad, it was really bad.
Back then, I lived by myself. Lying in bed at night, if I wanted to turn my body because it was becoming stiff, I had to hold the headboard with both hands and make the turn inch by inch. When I got up in the morning, I couldn't stand up straight.
Sometimes I had to hold on to the wall to walk because of the pain, and it usually took me an hour to gradually be able to straighten my back.
I would have no energy at all, not even enough to talk on some days. For someone who has loved sports and keeping active since childhood, it was extremely frustrating.
I lived like this for three years, always assuming I had caused my pain through exercise or 'overdoing it'. I was diagnosed with axial Spondyloarthritis quite by chance. One day, in hospital, my mother overheard someone talking about it. Recognising some of the same symptoms that I was experiencing, she recommended that I ask my doctor to test for it "just in case".
In 2007, I was finally diagnosed with AS.
There's no cure for the condition, but medication can manage the inflammation. My doctor initially prescribed me steroids, but the side effects I experienced were so bad that sometimes I wondered if I was better off just living with the pain. I became depressed and felt sorry for myself, thinking life was not fair.
After five years of struggling between the pain and the side effects of steroids, doctors finally prescribed me biologic treatment. It worked like a miracle, and my pain vanished after the first injection. But back then, when I was living in China, it was also very expensive – close to £900 per injection, and I needed one jab every two weeks.
But still, I consider myself very lucky.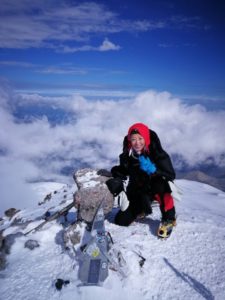 I know how bad AS can be, and while I still experience flares, when my symptoms get worse, from time to time, I feel like I've got my old life back since this treatment.
I've spent time volunteering at a field hospital in Tanzania, participated in a corporate boxing match in Singapore to raise funds to provide critical surgical care for sick children. Last year, when Covid-19 was at its peak in China, I also helped to raise £4,500 to buy medical protection suits and masks desperately needed in hospitals in Wuhan, China.
I've also completed four marathons, including one in Antarctica and one in the North Pole. I've also scaled three of the seven summits, and now, since coming to the UK, I'm challenging myself with the Spine Race, a 268-mile non-stop endurance race, considered one of the world's toughest!
It's going to be a huge challenge, but I'm putting myself through it because I want to raise awareness about AS and raise money for NASS, the only charity in the UK dedicated to the care of people with the condition.
I'm sharing my story because I hope my experience will inspire others with the condition. The symptoms of AS are invisible, and it isn't easy to communicate its impact to the people around you. But I want to say to anyone living with the condition, please don't give up. As hard as it sometimes feels, try and stay positive and never let AS stop you from pursuing your dreams.
---
Beibei Fan is taking part in the Spine Race to raise vital funds to help transform the diagnosis and care of everyone living with axial SpA (AS). If you would like to show your support for Beibei, please visit her JustGiving page. 
Find out more about exercising safely with axial SpA.