"I'm 'Stepping Forward for AS' in memory of my father, who lived with axial SpA for 55 years, and who touched the lives of so many people living with the condition"
This October, Kirsteen Maclennan and her family are taking part in the Step Forward for AS challenge in memory of Kirsteen's father, Hamish Menzies, who passed away in August this year. Hamish was the Chair of the NASS Dingwall branch and lived with axial SpA for over 55 years. Here, Kirsteen shares her tribute to her father.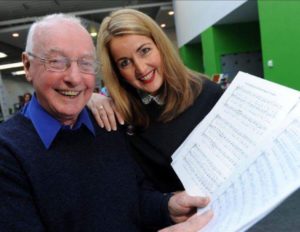 "My dear Dad was diagnosed with axial SpA as a young man and lived with his condition for 55 years. He had lived with symptoms for many years but was only diagnosed when he moved to Dingwall in 1966. He lived with his condition without complaint and managed his symptoms with medication and exercise. I've got such fond memories as a child of watching him do his exercises each day in the front room.
My Dad was all about helping others. He helped found the NASS Dingwall Branch in 1993, where he supported other local people living with axial SpA and contributed to every fundraising and social event with his infectious humour, kindness and larger than life character.
Although he lived with pain all his life, it never held him back. My Dad was very active with his church and was an organist and choirmaster. He also conducted the Dingwall Gaelic Choir for more than 35 years, and in 2008 he was awarded the Freedom of Ross and Cromarty for his outstanding services music and within the community.
As a family, we are so proud of everything my Dad achieved in his life, and we all miss him so much.
When I saw the Step Forward for AS event advertised through NASS, I wanted to take part as a fitting tribute to my Dad, who touched the lives of so many people living with axial SpA. Together, with my husband Jamie, sons Finlay and Hector and dog Flora, we will walk a total of 55 miles – a mile for each year my Dad was diagnosed with axial SpA. We are fundraising for NASS because the organisation was such an important part of Dad's life and because NASS does some amazing work.
I have never taken part in an event like this before, and I've been overwhelmed by the support from friends and family. Every penny we raise will make a huge difference, and every step we take will be in memory of my Dad, Hamish Menzies."
---
We are so grateful to everyone taking part in this year's Step Forward for AS. If you would like to show your support for Kirsteen and her family, please visit their fundraising page.