"I'm putting my best foot forward for everyone living with axial SpA!"
Steve Phillips, 60, has lived with axial SpA for over 30 years. Steve is from Preston and, following a serious accident in 2014, discovered a love of exercise after years of a sedentary lifestyle. Steve is now taking on a month-long walking challenge to raise awareness of axial SpA and to support others living with the condition. Here, Steve shares his story.
---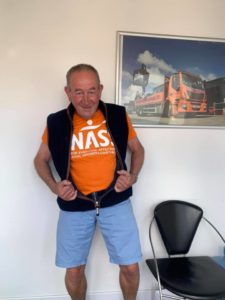 I've lived with axial SpA symptoms since my early 20's. By the time I got married at the age of 23, my pain was so bad that I was worried that if I knelt at the alter, I wouldn't be able to stand up again. One Christmas Day, I was in so much pain, I couldn't get out of bed. I lay there crying and told my wife that if I'd died there and then, it wouldn't have bothered me. I just wanted the pain to stop.
I finally received my diagnosis of axial SpA in my late 20's. To begin with, I used my diagnosis as a reason not to exercise, and I was pretty sedentary for many years, but now I've discovered the importance of staying active.
Then, in 2014, while on holiday, I fell and broke my back.
I had crushed several vertebrae and was in hospital for nine days and in a back brace for three months.
Working with a personal trainer during my recovery, I discovered exercise to build strength to ease the pain in my spine. I started with weights and gradually built up to cardio. As I built up more strength, I began to realise that exercise actually eased the symptoms of my axial SpA. I went from doing little or no exercise to going to the gym five times a week.
When the first lockdown started, and the gyms closed, I wanted to continue my exercise routine, so I started walking and averaging 26,000 steps a day!
I decided that I wanted to take on a personal challenge that would benefit other people with axial SpA. I got in contact with NASS with my idea to walk 1 million steps throughout May and discovered that May is not only the National Walking Month, it's also when the 'Walk Your AS Off' challenge takes place. Talk about serendipity!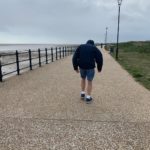 By the 20th of May, I had already completed 611,534 steps. I'm well on the way to achieving a million by the end of the month!
I'm also delighted to have raised over £11,000 to support the work of NASS. I've been blown away by the generosity of my friends, family, and colleagues and clients at my company North West Roofing Supplies Ltd.
Thank you to everyone who has supported me!
---
Steve is part of the NASS Orange Apples team for this years Walk Your AS Off challenge. If you would like to support Steve or follow his progress, please visit his JustGiving page.
There are many really enjoyable ways to exercise, and walking is one of those, whether it's going for a gentle daily walk or doing something more challenging. Find out more about exercising safely with axial SpA.