"It isn't easy to continually explain that my symptoms are not 'just back pain' to people around me"
Emmy Walmsley, a 27-year-old Deputy Nursery Manager from Preston, was recently diagnosed with axial SpA, and in January 2021 completed a Walk with us, Walk for AS challenge for NASS. Below, she explains her difficult journey to diagnosis, and why she wants to raise awareness of this condition.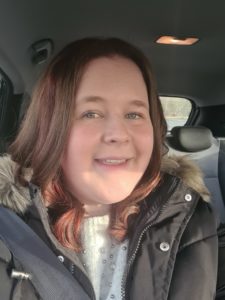 It began at 15 when I was diagnosed with painful psoriasis that covered my arms and scalp. Things started getting much worse at 18 when I started getting constant aches and back pain. My doctors initially dismissed my symptoms as growing pains, but over the next six years when it didn't go away, they seemed as perplexed as I was. I saw chiropractors and dermatologists, but nothing helped. Eventually, I found a rheumatologist who agreed to do an X-ray of my spine and found a clear curvature. They referred me to have an MRI which confirmed that I had axial SpA (AS).
After a decade of struggling for answers, I finally had one. However, it wasn't quite the magic solution I had been hoping for.
For starters, AS is incurable, that was a lot to get my head around, as I will likely need treatment for the rest of my life. I have also learned there is a lot of trial and error with treatment plans. I have been through two treatments which gave me terrible side effects like nausea, headaches and swelling. Thankfully, just last month, I was started on a new treatment plan which seems to be working well for me.
Dealing with the physical impact of axial SpA (AS) is nothing compared to the mental effects. Although I have this diagnosis, there is so little public awareness of this condition or its seriousness. It's a difficult diagnosis, and it isn't easy to continually explain that my symptoms are not 'just back pain' to people around me. Thankfully, I have had incredible support from my husband and family. I have no idea how I would have coped without them.
I only recently learned about  NASS membership, which brings people with axial SpA (AS) together through an online forum, and through classes and events. I am really keen, post lockdown, to be part of my local NASS group. I think having a support group of people who are living through the condition would be invaluable.
The pandemic, of course, as brought with it its own struggles. I found the first lockdown easier to deal with because everything was shut and my colleagues were at home too. We were all in the same boat in a way.
However, this time, I feel excluded, lonely, and with the nagging feeling I'm missing out on life because I am shielding. I'm still young and want to be at work but I can't right now. It's hard on my mental health, but I know that I am lucky to have a great support network and a wonderful husband. My heart goes out to people who are living alone during this challenging time.
My Walk with us, Walk for AS challenge.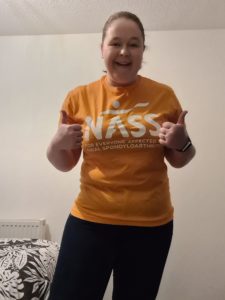 One of the reasons I started my Walk with us, Walk for AS challenge to complete 30 miles in 21 days, was to give myself something positive to focus on during lockdown. It's been a great reason to get out of the house every day and has been fantastic for my mental health.
However, the most significant benefit has undoubtedly been being able to raise awareness of this condition.
I was incredibly nervous about sharing my story, as I didn't want to come across like I was looking for sympathy, but in the end, it has been a fantastic experience. Many people have reached out to me to say they had no idea about axial SpA (AS) or what I had been going through.
There must be so many people like me living with axial SpA (AS) but don't know it yet, whose symptoms have been dismissed or who are still waiting for answers.
I hope that the £350 I have raised from my challenge will allow NASS to reach more people and raise awareness! Even if one person's life is changed, then the challenge will have been worth it.
---
On average, it costs £10 for our Helpline Team to respond to one call or email and provide specialist support and advice to someone living with axial SpA (AS). Emmy's fundraising means that our team can potentially reach up to 35 people who need our support during this challenging time.
We are incredibly grateful to all of our fundraisers and supporters for sticking by us during these uncertain times. With your help, we can continue to be there for everyone living with axial SpA (AS) when they need us most.
Click here to donate to support work. Or if Emmy has inspired you, why not take part in your own Walk for us, Walk for AS challenge?