Please act now to make a life changing difference to people with axial SpA

"I don't want to live off benefits but at the beginning of 2021, I had no choice but to apply. I was initially turned down for Personal Independence Payments (PIP), but with the help of NASS and Garry on the Helpline, I was awarded the benefits I'm entitled to." Robin Brittain, aged 53.
Robin has spent 30 years living in constant pain. His life is a battle with extreme fatigue and exhaustion, mobility problems, stress and constant anxiety about money. As a young man, he dreamed of being an architect, but axial SpA took that away from him.
No one should be robbed of their dreams because of axial SpA and no one should face financial insecurity.
At NASS we are here to listen, understand and actively support anyone whose life is touched by axial SpA. We also help people get the benefits they are entitled to. Benefits that make life a little easier.
We can only do this with your help.
Your donation could cover the cost of a call or email to our Helpline, help us support someone with their benefits application and ensure we're here for everyone who desperately needs our support.
If you can't donate today, please share this article and help us raise awareness about the impact of axial SpA.
With your help, we can ensure that no one with axial SpA feels alone facing the stress of money worries.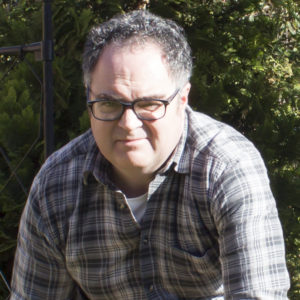 I have spent most of my life trying to get people to listen to me and understand what I'm going through."  Robin Brittain, aged 53
It started as a teenager
"At the age of 14, I developed Iritis, now commonly known as acute anterior uveitis, then the back and pelvic pain started between the ages of 15-16.
It took me nine years to find out why I was in so much pain. At the age of 23, I was finally diagnosed with Ankylosing Spondylitis (AS), a form of axial spondyloarthritis or axial SpA for short.
I dreamed of being an architect
Despite my health issues, I secured a place at University to study to be an architect. This involves seven years of training and it was in the middle of this that I was hospitalised for three weeks and diagnosed with AS. When I reached the sixth year, I was in unbearable constant pain and brain fog due to fatigue and continual flare-ups. I fell behind with the coursework. Instead of the University being sympathetic and granting me an extension, I was told to repeat the whole year again. I couldn't see how I could do it. I continued to have flare-ups, couldn't complete coursework and eventually had to abandon the course.
I didn't give up
I've always tried to work but struggled to hold jobs down due to the pain and extreme exhaustion of axial SpA. In the end, my only option was to become self-employed so I could work around flares when my symptoms became unbearable.
I was determined not to give up on my dream and subsequently completed a master's degree in architecture. It doesn't make me a qualified architect, but I can work as an architectural consultant, specialising in the areas of great interest to me, the environment and historical buildings.
I hit another low point
My life took another unexpected turn in 2016 when both my parents faced health issues and I had to become their carer.
For us to eat and heat our home, I had to claim benefits, attendance allowance for them, and carers allowance for me.
Sadly, both my parents died in 2020. My own health then deteriorated and with COVID-19 pandemic at its height, I hit an all-time low.
I had no choice, I had to apply for benefits
By the beginning of 2021, day-to-day living became so hard that I had to apply for Universal Credit and then for Personal Independence Payment (PIP).
I was awarded work-related Universal Credit but my application for PIP was initially turned down, which was a huge blow.
So, I turned to NASS for help. With the help of Garry at NASS, I asked for my application for PIP to be reconsidered. I was so relieved when I was told it was successful and I had been awarded the allowance.
Living with axial SpA is a lifelong struggle
It's so frustrating that axial SpA is a hidden condition. I have spent most of my life trying to get people to listen and understand what I'm going through. I have to live with the same issues repeating themselves, sometimes in different forms.
At college, I fell behind. At work, I can't keep up. I've spent nearly 40 years living with chronic pain, fatigue, mobility issues, worry and stress and constant anxiety about money."
Robin is currently helping to set up a NASS branch in Nottingham and we're grateful to him for agreeing to share his story to raise awareness of life with axial SpA.
By donating you can make a life-changing difference to people like Robin. You'll be helping us to help thousands of people get the support they need to live well with axial SpA.