"While I waited for answers, I was in so much pain. For weeks at a time, I could get no relief at all. I felt claustrophobic in my own body."
Safia Awil, 22 from Bedfordshire, began experiencing debilitating joint pain in 2018 but wasn't diagnosed with axial spondyloarthritis (axial SpA) until June this year.
No one should feel locked out of life because of axial SpA. Yet, the current delay to diagnosis means that thousands of people like Safia live with pain and worry for years while waiting for answers.
With your help, we can ensure that everyone has support when they need it most. Just £10 can cover the cost of a call or email to our Helpline for someone desperately needing support with their axial SpA. And if you cannot donate today, please share this article and help us raise awareness about the impact of axial SpA.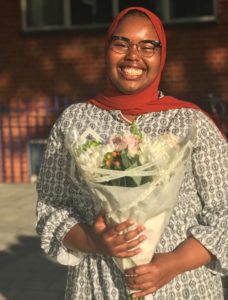 "My symptoms started in 2018 while I was at University. I thought the persistent discomfort in my lower back was down to spending too much time studying. But as time went on, it got worse, to the point that it was painful to sit for too long or walk down a flight of stairs. It felt like the joints in my back, hips, and knees had ground glass in them. The pain woke me at night. My hands felt stiff, and I also developed a stabbing sensation in my left shoulder.
I went back and forth to my GP, Looking for answers. It wasn't until nearly a year later that I met with a rheumatologist who diagnosed rheumatoid arthritis, a misdiagnosis.
I couldn't believe someone my age could have arthritis.
I felt so overwhelmed. Would I be on medication forever? What about my studies? What if I want to have children someday? Reading through an information leaflet at the hospital, I cried and cried.
I was prescribed medication, which initially worked well, and I was relatively pain-free for several months. Then my symptoms came back with a vengeance. The hospital increased my prescription, but it didn't help.
For weeks at a time, I could get no relief at all.
The pandemic caused so many delays that it took forever to speak to my GP or rheumatologist. I started to feel claustrophobic in my own body. The pain spread to my feet, which swelled up so much I couldn't move my ankles. I felt permanently cold, and the pain in my hips was so bad I couldn't sit, lie down or stand for too long.
I ended up in A&E with a stabbing pain in my chest. It felt like I had an axe embedded there, and it hurt to breathe. I had tests to rule out a blood clot, but when they revealed nothing, I began doubting myself. Was it all in my head?
It wasn't until February 2021 that I finally spoke to a rheumatologist again. It was the first time I felt genuinely listened to. He ordered an MRI and blood tests, which, in June, confirmed that I had axial spondyloarthritis and peripheral spondyloarthritis.
NASS really helped me get my head around my diagnosis.
My rheumatologist referred me to NASS to access their exercise resources to help me improve my mobility and manage my pain. With NASS's videos and by seeing a physiotherapist and a personal trainer who specialises in people who live with limited movement, I'm slowly getting moving again.
The information booklets NASS sent me was brilliant and helped me get my head around my condition. But the best thing has been how NASS connects people with axial SpA. Initially, I felt like I was the only young person to have this condition, but now I know I'm not alone.
I'm so grateful to finally have a name for my symptoms but living with axial SpA as a young woman is debilitating.
Even with medication, which helps to a point, there are so many activities I can't take part in, and the ones that I do, I have to take regular breaks. I'm lucky to have a supportive employer, but I'm already on reduced hours because of the pain and limited mobility. I never thought that at 22 years old, I'd have to work part-time because of health reasons.
I've often felt lonely with my diagnosis, which is why I wanted to share my story today – to let other young people living with axial SpA know that they aren't alone.
Everyone's experience with axial SpA is different, but we are all in this together. If something is not right, push for answers and don't be afraid to be your own advocate.
We can only continue our support with the help of people like you. If you can make a donation towards our services over the coming months, we would be very grateful. With your help, we can ensure that no one is locked out of life because of axial SpA.
If you have any of the symptoms Safia has described and suspect you might have axial SpA, please speak to your GP. NASS also has an online symptom checker, along with loads of free videos, guides and resources about axial SpA. And if you are still not sure, please get in touch with the NASS Helpline. It's free, and Sally and Garry can help point you in the right direction.