"We had to make heart-breaking choices between heating the house and putting food on the table."

Steve spent 30 years living in pain, confusion and unanswered question as he waited for a diagnosis. As a result , the father of two lost his business, his social life and his zest for life as he navigated the uncertainty and financial pressures caused by axial SpA. 
No one should face financial insecurity because they live with axial SpA. Yet, the cost of waiting for a diagnosis is substantial and it doesn't stop there.
At NASS we are here to listen, understand and actively support anyone whose life is touched by axial SpA. We also help people get the benefits they are entitled to. Benefits that make life a little easier. But we can only do so with your support. Just £10 can cover the cost of a call or email to our Helpline for someone who desperately needs support with their axial SpA.
If you can't donate today, please share this article and help us raise awareness about the impact of axial SpA.
With your help, we can ensure that no one with axial SpA feels alone and without hope because of their condition.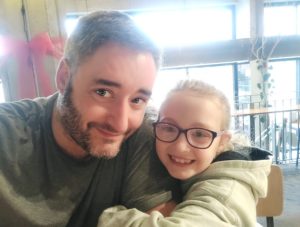 "In my mid-20s I noticed a gradual build of back pain which made me feel stiff in the morning but would get better throughout the day. I always thought it was weird, but I worked as a builder, and I'd enjoyed a bit of social football, so I just assumed it was a side effect of my busy lifestyle.
2005 was the first time I sought out help and consulted a doctor about my pain, I was 27 at the time and had been experiencing pain and fatigue since my early 20s. After multiple visits to various specialists, they still couldn't figure out what was wrong, so it was determined the whole thing was in my head. I was prescribed painkillers and anti-depressants and was told to change my career to something less physical.
Being labelled a malingerer and a liar
In 2007, I stepped away from building and started an office job instead. The idea was that time at a desk would stop the pain, but it made things a lot worse. I was sitting still for eight hours a day and the pain in my back grew, causing extreme discomfort. I was off sick a lot. Many employers branded me a malingerer and a liar, I was judged as being work shy and in 2011 at the age of 33, I was put on ill health retirement.
Eventually, in 2012, doctors found a tear in my hip. I had an operation to repair the damage and was put on medication, which helped a lot. At the time, I was warned my hips were not in great shape. I was advised to lose weight to ward off the prospect of an early hip replacement.
Once I'd recovered from the operation, I threw myself into exercise. I couldn't play football anymore but started running and even managed to complete two marathons in 2013 and 2015.
The hip operation also meant I could return to work as a builder in 2013. It felt great to be back doing what I love. However, the relief was short lived, an accident in my van during 2016 caused more damage to my hips and the familiar pain and stiffness returned in full force.
 I couldn't remember life without pain
For years, I tolerated it. Pain became part of my daily life. I'd been having issues for such a long time at this point that I couldn't remember life without pain. Construction is not an industry known for sympathy, so I had no choice but to shut up and put up with what I was going through.
During this time, I worked on a job for a client who happened to be a physiotherapist. I told him about my pain, and he offered to take a look. I'll always remember him saying, he was sure that there was more to my discomfort than hip issues.
That conversation with my client encouraged me to go back to my doctor and ask, again, for help. In 2019, an MRI on my hips picked up fusion in my pelvis and I was finally referred to rheumatology but even then, I didn't get answers for another two years.
Finally diagnosed but having to choose between heating or eating
The term 'axial spondyloarthritis' was thrown around but not confirmed officially until early 2021.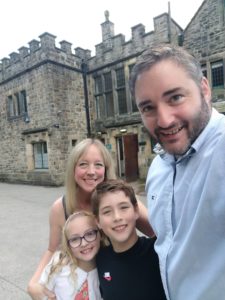 By this point the pain was so bad that I'd stopped working. My building company was completely reliant on subcontractors because I couldn't do the work myself. This was a costly option and eventually I had to fold the business.
I applied for financial support but was told I was fit for work and denied all assistance. As a family, we had to rely completely on my wife's income. We had to make heart-breaking choices between heating the house and putting food on the table. While I was bed bound and unable to move, my wife would work from home, wearing a coat all day so we didn't need to use any gas.
My mental health went downhill fast
During this time, my mental health went downhill fast. I felt like nobody was going to help me, apart from myself. I didn't want to burden my family by talking about my head space, so kept it all to myself.
At one point, I seriously considered whether my family might be better off without me.
Doing what I need to, to keep food on the table
In March 2021 I had a hip replacement and in August that year, I was finally put on biologics which have eased my pain a great deal.
Despite needing time to recover, I was turned down again for financial support. This means, I've had to return to work way sooner than I'd have liked. I'm now working as a tram driver which involves long periods of sitting down but I do get opportunities to stop and stretch. It's not ideal but it's what I need to do to keep food on the table."
If you have any of the symptoms Steve has described and suspect you might have axial SpA, please speak to your GP. NASS also has an online symptom checker, along with loads of free resources about axial SpA. And if you are still not sure, please get in touch with the NASS Helpline. It's free, and Sally and Garry can help point you in the right direction.
We can only continue our support with the help of people like you. If you can make a donation towards our services over the coming months, we would be very grateful.
With your help, we can ensure that no one with axial SpA feels alone and without hope because of their condition.