"When I'm swimming, it's the only time I feel truly pain free"
Darren Fletcher, 32, first experienced symptoms of axial SpA when he was in his late teens. Within ten years, Darren has undergone two hip replacements and multiple knee surgeries. During this time, he also discovered a love of swimming. This September, he is challenging himself to a 10 mile sponsored swim to raise awareness about axial SpA and support others living with the condition.  
---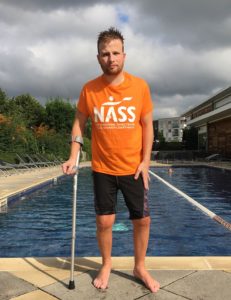 "I first experienced symptoms of axial SpA when I was about eighteen. I had an active job working as a builder but was experiencing constant pain in my lower back. It was so bad that sometimes I'd come home from work, sit down, and struggle to get back up again. For years, doctors put my pain down to the physical nature of my job. At the age of 21, I left my building career to work in a local foundry. While the work was still physical in nature, it was a lot less physically demanding than my previous job, and I thought my pain might improve. But it persisted.
I learnt to live with the pain, but my mobility got more affected, and I could no longer participate in sports like football, which I loved.
When I was 23, my knees started to swell painfully. My doctor referred me to an Orthopaedic Consultant, who immediately spotted that something was very wrong. I was then referred to a consultant rheumatologist for tests that confirmed a diagnosis of axial Spondyloarthritis (axial SpA).
I had never heard of axial SpA before, and I had no idea about the effect it would have on my life.
I started treatment immediately, but unfortunately, my axial SpA is particularly aggressive. In the past eight years, I've had two hip replacements and surgery to remove the synovial glands in both knees to reduce the fluid build-up around my joints. I'm now awaiting surgery for two full knee replacements.
The inflammation in my lower back, hips, and neck continues to cause a lot of pain and limited movement. I frequently wake at night in agony and unable to move, and I have to hold my headboard and slowly lever myself out of bed to get moving in the morning.  When I leave the house, I have to plan my journeys as I cannot turn my head from side to side. I'm due to have neck injections in a couple of weeks which I hope will help with the inflammation.
I'm not a negative person by nature, but it can be challenging to stay positive sometimes, especially when it comes to explaining my condition to other people. No one has heard of axial SpA, and at first glance, I look like a young man in good shape. But what can't be seen is the pain I'm in, the financial worries that come from living with a chronic condition and being unable to work, or the frustration about being unable to take part in sports or other activities that other people in their early 30's should be able to enjoy.
When I'm swimming, it's the only time I feel truly pain-free.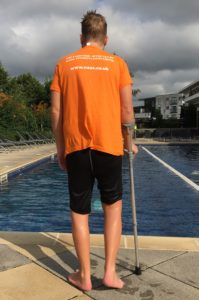 One real positive from my story has been discovering a love of swimming. I started swimming a couple of years ago to help improve my flexibility and my fitness. It really helps me and the symptoms of my axial SpA. When I'm swimming, it's the only time I feel truly pain-free.
I decided to combine my love of swimming with raising awareness about axial SpA and raising money to support NASS, who have been such amazing support for me over the years.
I decided to challenge myself to swim ten miles within 5 days – that's 160 lengths of the 20-metre pool each day! It will be a huge challenge, but my local David Lloyd gym and the fundraising team at NASS have been so supportive, and I'm really excited to get started on 20th September.
I wish that I had known about the symptoms of axial SpA earlier.
I don't know if the outcome for me would have been any different, but I'm determined to do what I can to raise awareness about the condition, so that other young people don't have to have the same experience as me."
---
Darren's sponsored swim starts on Monday 20th September 2021. He is already halfway to his fundraising target of £1,000, which will help us transform the diagnosis, treatment, and care of people with axial SpA and help more people live well with axial SpA sooner.
Visit Darren's JustGiving page to follow his progress or to donate towards his incredible challenge.
Find out more about exercising safely with axial SpA.